For this week's Tuesdays at the Table, I thought I'd share a {
labor-intensive
} recipe I made quite a few weeks ago. Both Chris & I loved the flavors of these
chile rellenos
. Since it was my first time attempting something like this, I made quite a few beginner's mistakes that I would not make again the second (and third, and fourth...) time. We will definitely be making these again as they are really flavorful and delicious.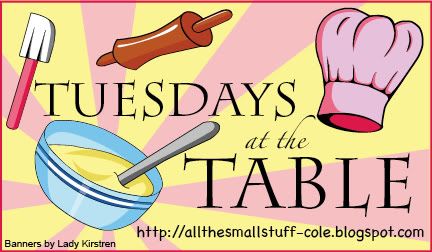 (the ingredients below reflect my own changes;
if you want to see original recipe, click link above)
Prep: 45 minutes / Cook: 45 minutes / Servings: 4
Ingredients
Peppers
4 large poblano peppers (
I used pasilla
)
1/2 block monterey jack cheese
1/2 block sharp cheddar cheese
1/4 cup all purpose flour, for dredging
Sauce
1 can Mexican style stewed tomatoes
1 T vegetable oil
1/2 onion, chopped
1 clove garlic, minced
1 1/2 cups chicken broth
2 T distilled white vinegar
1 t. Mexican oregano (
I used regular Italian oregano
)
1/2 t. ground cumin
1/2 t. black pepper
1/2 t. hot sauce (
I used Tabasco
)
1/8 t. ground cinnamon (
secret ingredient that makes this sauce delicious!
)
Batter
1/3 cup all purpose flour
1/2 t. salt
5 egg whites at room temperature
1 egg yolk, beaten
For Frying
1/4 cup all purpose flour, for dredging
1 cup oil
Directions
(It's a lot of steps, but worth it at the end)
1. Preheat the oven's broiler and set the rack about 6 inches from the heat. Line a baking sheet with aluminum foil, and place the peppers on the baking sheet.
2. Cook under the preheated broiler until the skin of the peppers has blackened and blistered, about 8 to 10 minutes per side.
3. When the peppers are about 80% blackened, place them in a plastic bag, seal, and allow the peppers to steam as they cool, about 20 minutes. (
Note: This tip is helpful because it makes the skin easier to peel off; grab an extra produce bag from the grocery store and use that to put the peppers in.
) Once cool, remove the skins and discard. Cut a slit lengthwise into the side of each pepper and remove the seeds and veins. Pat dry with paper towels.
4. Cut each cheese block into 4 smaller blocks. Use one of each to put inside of each pepper. Keep the openings closed with toothpicks. Lightly dredge the peppers in flour and dust off the excess. Place in the freezer for at least 30 minutes. (Note: The cheese will become too hard in the freezer and will not have enough time to melt while being fried. Place in the refrigerator instead. Even doing this, you may have to heat in the microwave to melt cheese completely. See Step 7.)
5. To make sauce, blend the stewed tomatoes in a blender until pureed and set aside. Heat vegetable oil in a saucepan over medium heat, and cook the onion until translucent. Add the garlic, cook for about 30 seconds, and then add the tomatoes, chicken broth, vinegar, and spices. Reduce heat to medium low and simmer the sauce until reduced by half and thickened, about 20 minutes.
6. To make the batter and finish the rellenos, mix 1/3 cup flour with salt in a bowl. In a separate bowl, beat the egg whites until the whites form stiff peaks. Lightly mix the egg yolk and flour/salt mixture into the egg whites to make a fluffy batter. Remove peppers from the freezer and coat them in flour again then dip each pepper into the egg batter.
7. Heat frying oil over medium high heat until the oil shimmers. Gently lay the coated peppers into the hot oil and fry on both sides until the batter is golden brown and the cheese filling is hot, about 5 minutes per side. Place peppers in the warm oven until ready to serve. (
Note: Since the peppers had been in the freezer, the cheese was quite hard and didn't get melted through while frying. To melt the cheese, I just microwaved the peppers for about 2 minutes. This didn't compromise the flavor or crispiness of the pepper in any way.
)
The finished meal:
My favorite part was the sauce! It was so yummy and I want to try it on other dishes like enchiladas & tacos! I hope my tips & notes will help some of you have an easier time making this delicious dinner. Don't be put off by the number of steps and components because it really is much easier than it looks.