I'm so excited that I'm actually keeping up with this weekly post...yay for consistency! Thank you to
Cole
for hosting Tuesdays at the Table! Also, I'd love to know if you post recipes on your own blog - I'm always looking for inspiration for the dinner table. Please let me know in the comments!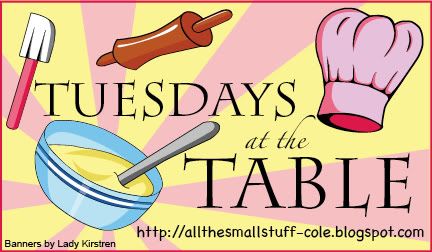 I'm sad to say that C & I have been eating out a lot more than usual lately. Neither of us wants to cook when it's so hot outside! But a couple of days ago, I was inspired by a post over at YumSugar to make Gwyneth Paltrow's Fried Zucchini Spaghetti because a) I love Gwynnie (duh!), and b) I love pasta!
This recipe is super easy to make, and it tastes delicious! You could definitely add chicken or shrimp to bulk it up, but we went vegetarian this time. I'm doubtful that Gwyneth eats this because it can't be very healthy, but I'll just tell myself that she does and that's why she looks so good!
Eat like Gwynnie = Look as good as Gwynnie!
Serves: 4 / Total Time: 45 minutes
Ingredients
1 pound small zucchini, very thinly sliced crosswise
1/2 cup all-purpose flour
Salt
1/2 cup plus 2 tablespoons extra-virgin olive oil
3/4 pound spaghetti
1 cup shredded Parmagiano-Reggiano cheese, plus more for serving
1/2 cup torn basil leaves
Freshly ground pepper
Lemon wedges, for serving
Directions
1. In a medium bowl, toss the zucchini with the flour and a pinch of salt. In a large skillet, heat half of the oil until shimmering. Add half of the zucchini and fry over high heat, turning once or twice, until browned and crisp (3-4 minutes). Using a slotted spoon, transfer the zucchini to a paper towel-lined wire rack and season with salt. Repeat with the remaining oil and zucchini.
2. Meanwhile, cook the spaghetti in a large pot of boiling salted water until al dente. Drain, reserving 1/2 cup of the pasta cooking liquid. Return the pasta to the pot and toss with the 1 cup of cheese, the basil, and a generous pinch of pepper. Add the reserved pasta water a little at a time, tossing well to coat. Transfer the pasta to a bowl and top with the crispy zucchini. Serve right away with lemon wedges and additional cheese.
This meal turned out delicious! From start to finish, I'd say it took under half an hour to throw together. The longest part was waiting for the pasta water to come to a boil. I also wanted to note that it's really important to reserve some of the pasta water because it does help to loosen up the pasta noodles once they've been mixed with the parmesan and basil, otherwise it gets too sticky and clumpy to work with.
I hope you'll make this soon! It's a very quick and tasty weeknight meal!