I'm linking up with Cole over at
All the Small Stuff
for Tuesdays at the Table to share an easy and delicious breakfast recipe with you.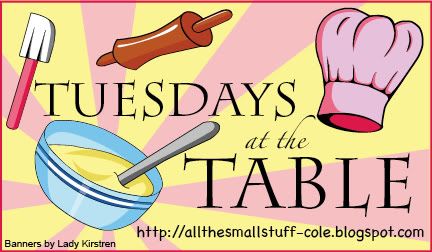 This is a combination of a couple of different recipes that I came across while searching for easy, freezable breakfast ideas. I would say I was most influenced by
this recipe
in particular.
Breakfast Burritos
Makes: A LOT (I got 16) / Prep: 10 minutes / Cook: 25 minutes
Ingredients
1 lb sausage (I used Jimmy Dean Reduced Fat)
1 bag shredded hash browns
11 eggs, beaten and scrambled
1 cup shredded cheese (I used a Mexican blend)
Directions
1. Cook hash browns according to package directions.
2. At the same time, in a different pan, cook sausage according to package directions and add onion during last few minutes of cooking.
3. Add hash browns and sausage mixture to a large bowl to cool a bit.
4. Beat eggs and season with salt and pepper. Add milk or water to keep eggs tender.
5. Scramble eggs over low heat. Once done, mix in with the hash browns and sausage.
6. Add shredded cheese to mixture.
6. Using a 1/3 cup measuring spoon, place mixture in the center of a flour tortilla. Wrap and place seam side down on a baking tray.
7. Once all of the burritos are made place the baking tray in the freezer for about an hour.
8. Once fully frozen, place burritos in individual ziploc bags and store in the freezer for an easy grab-and-go breakfast.
To serve: Wrap your frozen burrito in a paper towel and heat in the microwave for about 1:30 to 2 minutes.
Here is my yummy breakfast burrito this morning! It is so good with salsa and sour cream also.