It's been a couple of weeks since I participated in the recipe link up over at Cole's blog,
All the Small Stuff
. I haven't really been cooking very much so that's why I haven't had anything to share! But I did bake a wonderful pumpkin bread last week that everyone was raving about so I figured it's definitely worth sharing!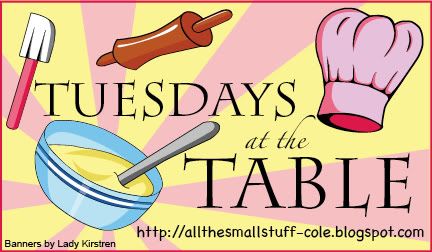 Fall is my favorite season and there is just something so cozy about the smell of pumpkin bread baking in the oven. I found this recipe for
Pumpkin Cranberry Bread
and it had such great reviews that I knew I had to make it.
Prep time was so fast - it was ready to go in the oven in about 10 minutes, maybe less. I used mini loaf pans (5"x3") and baked them for about 50 minutes at 350°. The bread comes out super moist and the spiciness from the pumpkin pie spice is really delicious. Then there is the tartness & sweetness from the cranberries which puts this bread over the top!
Here is the recipe:
Ingredients
1 tablespoon plus 2 teaspoons pumpkin pie spice
1/2 cup orange juice or water
1 cup sweetened dried, fresh or frozen cranberries
Directions
PREHEAT oven to 350° F. Grease and flour two 9 x 5-inch loaf pans.
COMBINE flour, pumpkin pie spice, baking soda and salt in large bowl. Combine sugar, pumpkin, eggs, oil and juice in large mixer bowl; beat until just blended. Add pumpkin mixture to flour mixture; stir just until moistened. Fold in cranberries. Spoon batter into prepared loaf pans.
BAKE for 60 to 65 minutes or until wooden pick inserted in center comes out clean. Cool in pans on wire racks for 10 minutes; remove to wire racks to cool completely.
FOR THREE 8 x 4-INCH LOAF PANS:
PREPARE as above. Bake for 55 to 60 minutes.
FOR FIVE OR SIX 5 x 3-INCH MINI-LOAF PANS:
PREPARE as above. Bake for 50 to 55 minutes.
I took this to work and it was gone so fast that I wasn't able to snap a picture, but I promise it's worth making!