I'm excited to do my first recipe link up with
Cole
over at
All the Small Stuff
! I've been reading her blog for quite some time and I love to scroll through all of her recipe ideas as well as the recipes of other bloggers who are linking up with her.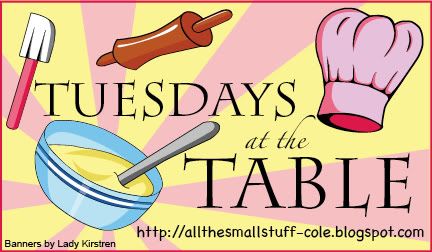 I've been lacking inspiration in the kitchen recently. Eating healthy can sometimes do that to you! Although the
salad recipe
I shared with you last week really is delicious, it can get boring when you are eating it two or three times a week.
That's why I bought the
Recipe.com
magazine that is on newsstands now. It's a compilation of recipes from several different sources like Better Homes & Gardens, Eating Well, and Family Circle.
I have a feeling I'll be sharing a few recipes from this magazine. They all look delicious!
Italian Market Pasta Salad
Makes: 4 servings at $2.04 each / Prep: 10 minutes / Cook: 9 minutes
I like this salad because it has pasta (love my carbs!) and reminds me of my favorite salad from
California Chicken Cafe
! It's super easy to throw together and enough of a variation that it doesn't feel like you're eating a salad, which is always a good thing!
You can see the official recipe
here
. The recipe below is how I chose to make it.
Ingredients
4 oz packaged pasta
6 cups spring greens
1 cup grape tomatoes, cut in half
1/2 cup crumbled feta cheese
3 T olive oil
3 T balsamic vinegar
Salt & pepper
Directions
1. Cook pasta according to package directions. Drain, rinse, and drain again.
2. In a large salad bowl, combine cooked pasta, greens, tomatoes, and cheese. Drizzle with olive oil and vinegar, tossing to coat. Season with salt and pepper.
Per Serving: 319 calories, 20 g fat (5 g sat.), 11 mg cholesterol, 246 mg sodium, 27 g carbs, 2 g fiber, 10 g protein