The lovely
Danielle
has come up with a fabulous topic for today's Fab Friday!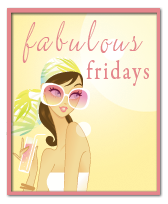 I
♥
this topic because I am
OBSESSED
with my shows - Gossip Girl, One Tree Hill, CSI: Miami, Brothers and Sisters, In Plain Sight, NCIS, Law and Order, 18 Kids and Counting...am I sounding like a loser yet??! But now, networks have come out with a new string of shows premiering this summer (or restarting their next season) and I am so excited!
Here's what I'm looking forward to:
I just love
The Closer
.
Kyra Sedgwick as Brenda is fierce.
Ruby
,
how I love Ruby! Her show is an inspiration and her positive attitude is really refreshing! She knows she has to lose a huge amount of weight, but she doesn't quit or give up! It's on the Style Network, July 5 at 8 pm.
USA just doesn't quit with their EXCESSIVE promos for this show! I think
Royal Pains
has potential so I'm going to watch and see if it lives up to all the hype. Premieres June 4 at 10 pm. (right after
Burn Notice
)
Other shows that I've been watching in lieu of my regularly scheduled programming:
Law and Order CI
, now with Jeff Goldblum, Sundays at 9 pm on USA
The Little Couple
, Tuesdays at 10 pm on TLC
18 Kids and Counting
, Tuesdays at 9 pm on TLC
-----------------------------------------------------------------

That's my list for fabulous summer tv!
What shows made your list???
If you choose to participate in today's
Fabulous Friday
, leave a comment on
Danielle's post
to let us all know so we can check out your list!! Add the cute button too :)